There are a number of reasons why you might need a personal loan. You may need to pay off credit card debt, or pay for an unexpected car repair, or even pay rent for the month. No matter the reason, you might find yourself in need of financial help. However, if you have bad credit, you may have a more difficult time qualifying for the personal loan you need. The lower your credit score, the fewer options you may have when looking for a lender.


There is good news, it is possible to get a loan with a lower credit score. If your credit score is low, you may have to seek out non-typical lending institutions.

You may want to consider looking for a personal loan for those with limited borrowing options because of their low credit scores or short credit history. A personal loan can help those in need of financial assistance due to a financial emergency. Although having a low credit score may keep you from getting a great APR of less than 35%, you may still find acceptable interest rates. A personal installment loan, for example, is a type of loan where the money borrowed is repaid in fixed installments often based upon the borrower's paycheck schedule.
How to Get a Loan with a Low Credit Score?
As you may have already discovered, it can be difficult to get a loan from a traditional lender if you have a low credit score. The following strategic steps are for people who have had some financial missteps and as a result, have what most lenders would consider a low credit score.
Check Your Credit Report
Before you jump online and randomly apply for a personal loan, get a copy of your credit report. Once you have a copy, make sure there are no mistakes or errors. The Fair Credit Reporting Act requires each of the nationwide credit reporting companies — Equifax, Experian, and TransUnion—to provide you with a free copy of your credit report once every 12 months.

There's good news for consumers, starting in 2020, everyone in the United States can get 6 free credit reports per year through 2026 by visiting the Equifax Website or calling 1-866-349-5191. Those 6 reports are in addition to the one free Equifax report (plus your Experian and TransUnion reports) you get at annualcreditreport.com. To request your report from AnnualCreditReport.com, visit annualcreditreport.com, call 1-877-322-8228 or complete the Annual Credit Report Request Form and mail it to: Annual Credit Report Request Service, P.O. Box 105281, Atlanta, GA 30348-5281.

It is recommended that you get a report from one of the bureaus every 4 months. This allows you to stay on top of your credit report to ensure no there are no errors on your report.
Know Your Credit Score
Once you have reviewed your credit report, look for your credit score. The score will give you an idea of your borrowing potential. The lower your score, the lower your borrowing potential, and consequently, the higher your interest rate. Whether your credit score is good or bad, at least you will know where you stand before applying for a loan.
Clear Credit Risk categorizes consumer risk scores; here you can compare your score to the scores of other consumers.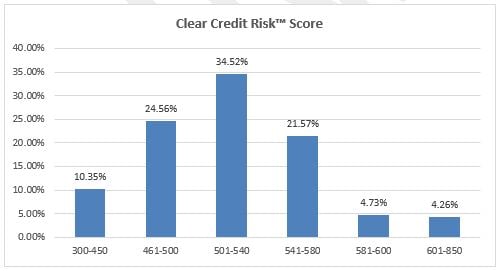 Ensure You Can Repay the Loan in the Scheduled Time
Evaluate your budget and understand before you apply how much money you can put toward repaying the loan when each and every payment is due.
Gather Your Personal Information Before Applying
Now that you know your credit score, don't start applying for a loan yet. To make the process easier and convenient, you should first gather some personal information. When applying for a loan online, reputable online lenders will generally require information such as a valid driver's license number, annual income, employer name, whether you rent or own a home, social security number, and bank account and routing number (so money can be deposited if the loan is approved). Make sure you have all this information before applying. Some lenders may require additional information based on their particular underwriting rules.
Be Prepared for a Hard Credit Inquiry
When you apply for a loan, a creditor will generally request to look at your credit file to determine how much risk you pose as a borrower. A hard credit inquiry can temporarily hurt your credit; so be prudent how many lenders you apply with. Your credit score should recover the points lost once you being making on-time payments.
Apply for Loan
If the above steps have been followed, you are now ready to apply for a loan. One thing to note is to not apply for multiple loans in a short period. Applying for multiple loans could temporarily lower your credit score due to the many credit inquiries.
Doing your research is an important step in protecting your financial health, particularly if you have bad credit. Remember, a low credit score may mean you have limited options, but it does not mean you have no options.