Halloween is notorious for being an expensive holiday. Planning ahead and creating a budget before you shop can help keep you organized, save you money and put you on track for a successful holiday season.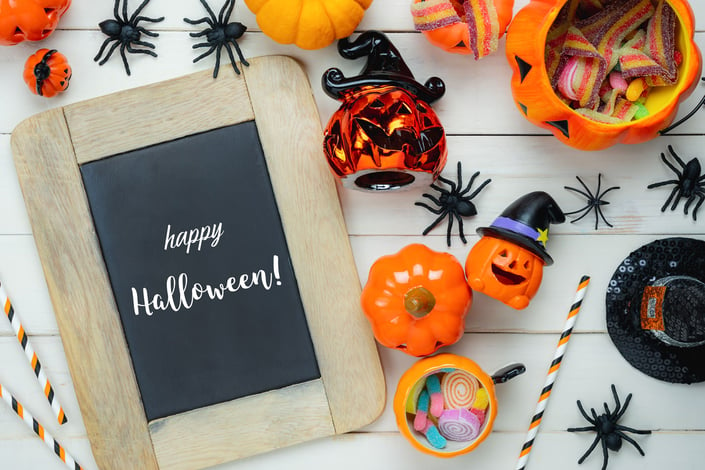 There are several components to consider when creating a Halloween budget. Whether you're a mother of two or a broke college student, organizing the way you spend might save you a large amount of money, especially during the holidays. Halloween spending can add up quickly. Thankfully, there are several alternatives to help cut that scary spending.
The key to budgeting for Halloween is to plan ahead. Know what you need to buy ahead of time to avoid having a last-minute candy/costume splurge. Make a list of the items you will need for this Halloween and not how much you are willing to spend for each of those items. Before you go out shopping watch for sales and be on the lookout for coupons. Make a note on your shopping list of the items that are on sale and at which store. Whether your hosting a party or simply looking to cut your expenses, Halloween budgeting is a must. Halloween expenses can be broken down into candy, costumes, decorations, and party prep.
Halloween Candy
Candy is a staple for Halloween. Americans purchase 600 million pounds of candy[i] for Halloween each year. One of the best ways to save money on candy is to buy in bulk. Look around for sales and make sure to check the price per ounce on each pack as certain packs have premium priced candy in them.
If you'd like to have something other than candy to give out to trick or treaters this year, stickers, temporary tattoos, and glow sticks may be cheaper alternatives that kids love just as much as candy! Also, there are plenty of homemade trick or treating recipes[ii] online that can help save you money by making your own treats, plus you'll impress your neighbors at the same time!
Halloween Costumes
Halloween costumes show others how much you really enjoy Halloween. Costumes can be pricey across the board, whether your shopping for your kids, or for yourself, costumes makers are out to capitalize on your procrastination. You don't have to fall for the $40 costume trap! Put your crafty hat on and hit the local thrift store. Create your own costume with thrifty clothes, crafts and face paint. With some odd fitting clothes, face paint, and some flair you will easily be able to compete with those who went to store last minute and grabbed a witch outfit off the shelf. You may save yourself loads of money and have your very own handmade costume.
If you aren't the crafty type, making sure to plan ahead when looking for costumes is crucial. Give yourself enough time to look for costume sales and find a deal on something you like. You can also purchase a costume after Halloween this year to use next year. Another option when looking for a costume is buying used. There are sites online and local community networks where members buy or sell previously worn costumes. All these options can help you save on costumes depending on your preferences.
Before you shop at all set a budget. Decide a reasonable amount to spend, and don't waver from it.
Halloween Decorations
Decorations can be expensive no matter the holiday. There are several ways to cut costs on Halloween decorations. Shop at the dollar store for cheap, smaller décor and lights. For larger décor, hit the craft store and you might be able to put something together at a fraction of the cost. If you're not into pumpkin carving, paint fake pumpkins and reuse them each year.
If you're not into DIY work, putting money into quality décor will pay off year after year. Find décor that won't easily break and ideally could be used inside and outside. As with costumes, you can always purchase decorations after October 31 and get them when prices are discounted to get rid of unsold holiday items. Decorations are vital component to putting everyone in the Halloween spirit.
Halloween Party Prep
Holiday parties can get expensive and there are several bases that need to be covered to make a successful Halloween party. Balance your budget based on what's most important to you. If you're hosting a party, work with friends and family to split expenses and tell guests to bring food and drinks. Try to avoid buying pre-made food at the store and make homemade Halloween recipes to save yourself money and show others that you're a true fan of Halloween. Halloween recipes can be simple or complicated, there's a wide array of options to choose from.
Games are what makes a Halloween party pop. Don't assume bobbing for apples will be enough though. Even less expensive Halloween games can keep your guests entertained and less focused on your dollar store décor. Some of the funniest games are the Minute to Win it games[iii], plus they are fun for all ages. Hosting a Halloween party can leave you in a sticky situation financially, planning ahead will help you balance each aspect effectively and increase your probability for a killer time!
Final Thoughts
Budgeting during any holiday is always a smart move. Budgeting for the first time can seem scary and daunting but, after you calculate the savings you've created for yourself, it won't seem so bad. Stick to your plan and cut costs where you can. Halloween can be financially overwhelming if you're unprepared. Adjust your budget according to your preferences to give yourself more room to spend in other areas. Use budgeting as a learning experience and work to create budgets more often. Utilize these tips and you'll be fully prepared tackle Halloween this year!
_______________________________________________________________________________________________________
[i] https://www.chegg.com/play/food-and-fit/food/12-interesting-candy-facts-probably-don't know/
[ii] https://www.countryliving.com/food-drinks/g1194/halloween-treats/
[iii] https://www.u-createcrafts.com/halloween-minute-to-win-it-games/