Before buying your next item or throwing something old and broken away, stop and think about if you could turn it into a DIY project. These projects can range from recreating an old item to making something from scratch. They are all easy and quick and you will be surprised at the opportunity for creativity and savings!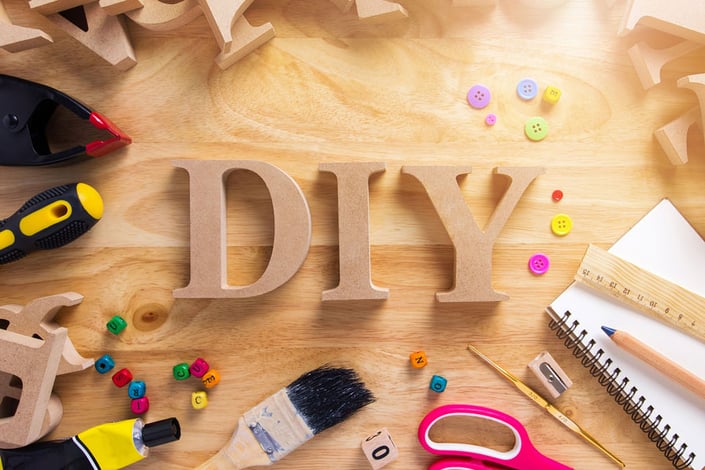 Easy to Make Everyday Items
Some items are a necessity in your household, so it seems like you can't avoid the high prices of having to consistently purchase them. The costs of these items build-up quickly over time with no end in sight. However, that can be avoided more easily than you think. Some everyday items can be made at home, work well, and can save you money.
DIY Kitchen Disinfectant Spray
Why spend money on expensive cleaning supplies with unknown chemicals when you can make your own at home with just a few simple ingredients. This can help you save money and to know exactly what the ingredients are that help keep your house clean. All you will need is a cup of distilled vinegar, a cup of water, and a few drops of essential oils of your choice. Tea Tree oil is a good choice because of its antibacterial and antiseptic properties. Adding another oil such as lavender or grapefruit can help it to smell great. Simply mix the oils you choose with the cup of water and cup of vinegar in a spray bottle and you're ready to clean! It's really that simple.
DIY Laundry Detergent
DIY laundry detergent can also help save a bit of money in the long run and help decrease the amount of cleaning chemicals in your household. All you will need is banking soda, bar soap, and borax. Grate the bar soap until it is finely grounded then mix 2 parts washing soap, 2 parts borax, and 1 part bar soap together. Store your mixture in a tightly sealed container, out of reach of your children and pets. When it's time to wash clothes simply scoop as little as 2 tbsp. – but not more than 1/4 cup, depending on the number and size of items you're washing.
DIY Toothpaste
Along with detergent and cleaning spray, making your own tooth paste could have health benefits in addition to saving money. Many of the mainstream brands of toothpastes contain harmful ingredients such as triclosan, artificial coloring, titanium dioxide, and more. It's very simple to create make your own without the harmful ingredients. All you need is 2/3 cup baking soda, 1 tsp fine sea salt, 1-2 tsp peppermint extract or 10-15 drops of peppermint essential oil, and some water. Just mix the baking soda, salt, and peppermint together, and slowly add water until you have gotten the desired consistency. Now you can cut some cost on toothpaste and have healthier teeth at the same time!
Creative Recycling
Have old or broken products you are about to throw out? Before you do that, take a second to stop and think if any of these could be remade into something different and useful. Here are a few examples of creative recycling.
Cardboard Rolls
Cardboard rolls are a great way to store extension cords or Christmas lights. Just fold the cords back and forth and then stick them inside the roll for easy storage that's tangle free. You can even write on the outside of the roll to label what is stored inside.
Broken Picture Frame
Turn a broken picture frame into a cute place to store all your earrings. All you need is wire netting and an old frame, of course. Place the frame on the netting and cut around its edges. Next, place the netting on the back of the frame, staple it in place, and cut off any excess netting. That's all! Your homemade earring holder is complete. This idea is easy to make, and doubles as a place to store earrings and as a cute decoration for your room.
Flips Flops
Create new cute flip flops from old broken ones! When your flips flop straps have come loose, don't just throw them away. Use this trick to turn them into a new pair of braided sandals.
These are only a few of the thousands of types of do it yourself projects you can find directions for. These projects can be fun and easy and there is a certain satisfaction that comes with knowing you made something yourself. The possible savings on top of that makes it a win-win-win! When you're trying to save money, even the smallest things can help, so just remember to think before you throw old products away or purchase items you could possibly make yourself.