If you rent a house or an apartment, you may think that everything in your rental is covered. The truth is the landlord's insurance generally only covers the structure itself.
Items you personally own will generally need a separate insurance policy; called Renters Insurance. Heres' a look at what you should know about renter's insurance.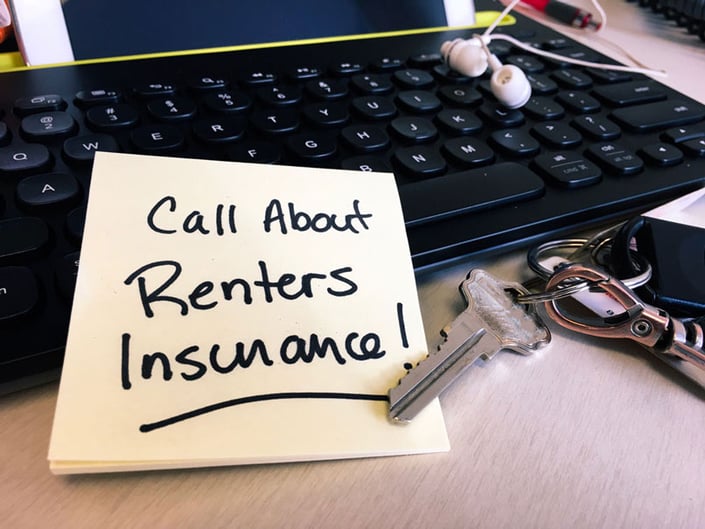 What are the types of protection offered by renter's insurance?
Renter's insurance offers three types of protection:
Coverage for personal possessions - This covers all the personal items in your rental, including furniture, clothes, computers, decor, and other items.
Liability protection - This coverage protects you in case someone is injured inside your rental property.
Additional Life Expenses - This coverage protects you in case an insured natural disaster destroys your rental and you need to live somewhere else.
How much insurance should you buy?
You should make sure that you have enough coverage to reimburse you in case everything you own is lost to burglary, fire, or a natural disaster.

It is recommended that you make an inventory of everything in your rental to determine how much coverage you need.
What kind of coverage should you get?
There are two types of coverage for personal possessions:
Actual cash value - This coverage includes coverage for depreciation on your items.
Replacement cost coverage - This coverage is more expensive. However, you will be reimbursed to replace your item without having to factor in depreciation.
What disasters are covered and not covered with renter's insurance?
Renter's insurance generally covers the following disasters:
Fire
Smoke
Lightning
Vandalism
Theft
Explosion
Windstorm
Certain types of water damage, this option should be thoroughly explored before you take out a policy. The coverage here can be tricky.
What is the deductible for renter's insurance and how does that work?
A deductible is how much you will have to pay before your insurance pays for the damage.
For instance, if there is a fire in your apartment and you have a $500 deductible, then you pay the first $500 of damage yourself and the insurance takes care of the balance up to your policy limit.
What is a floater, or a rider policy, and do you need it?
A floater or rider is an additional policy that covers the most costly valuables from theft. Here are some examples of items that should get this type of coverage:
Jewelry
Furs
Collectables
Musical instruments
Is your personal property covered when you are away from home?
Some policies will have off-premises coverage to reimburse you if your items are lost in certain events. For instance, if you lose your luggage - at a hotel - due to theft.
What is liability insurance?
Liability insurance protects you against bodily injury to someone in your home caused by either you, another tenant, or even your pet.
This policy is designed to cover your cost while defending yourself in court, up to a certain amount.
Liability coverage should also include no-fault insurance. This insurance allows someone injured in your rental property to submit their medical bills directly to your insurance coverage for payment.
How to calculate how much liability insurance you need?
You will want to make sure that you have enough liability insurance to cover your assets if you are sued and comply with any specific amounts required by your lease. Make sure you do a complete inventory of your assets to calculate how much liability insurance you need. You should also double-check the requirements of your lease to make sure you know how much and to also determine whether you need to name your landlord as a loss payee.
Do you need an umbrella insurance policy?
If you want to guarantee that you are insured in case of a major liability lawsuit, you may want to get an umbrella liability insurance policy.
The umbrella policy will kick in when your regular liability insurance is exhausted. Your umbrella liability insurance coverage will provide you with protection from many types of suits.
What is additional living expenses coverage?
Additional living expenses are another type of renter's insurance that covers you if your rental is unlivable due to a disaster and is protected by insurance.
How much does additional living expenses coverage cover?
Additional living expenses ensures the following expenses may be covered:
Hotel bills
Temporary rentals
Restaurant meals
Additional expenses incurred from not having a permanent rental
Some additional living expenses will cover the difference between your everyday living expenses and your other living expenses. However, there are some limits to how much this type of coverage will provide.
It is good to know exactly how much coverage you will get and determine if it will be enough before you need it.
Can you get a discount with your renter's insurance?
You may get a rental insurance discount in the following situations:
Your rental has a deadbolt
Your rental uses smoke detectors
Your rental has a security system
You have good credit
You are over 55 years of age
Who needs rental insurance?
Here are the types of people who will want to have renter's insurance:
Traveling nurse - A traveling nurse will often live in several cities in a year. During that time, he or she will either live in hotels or rentals provided by the employer. Renter's insurance guarantees that the property is always covered, no matter where they go.

College students - College students will be living in dorms or off-campus housing. Therefore, renter's insurance makes a lot of sense if something happens to the student's property.

Young professionals - Young working professionals tend to rent before they buy their first property. Since young professionals may have higher-end items in their rental, it is essential that those items are covered.

Someone Downsizing or right sizing - A person who has downsized from a house to an apartment or temporary living will want to ensure that they have the proper protection for their property. Renter's insurance is a low-cost way to keep everything protected.

Anyone with a lease that requires it- Landlords in certain states can require the tenant to maintain renter's insurance. You should always check your lease requirements to see if you might be required to obtain renter's insurance.
Finding the right renter's insurance
It is important that you carefully research how much rental insurance you need. Remember that rental insurance can cover your property, personal liability, and expenses if you need to find another place to live. With the right research, you will find the ideal renter's insurance for your rental.